This was the challenge that I dreaded the most out of all of them because it's really messy and wastes a lot of polish.... and did I say messy? I've tried it out in the past but it didn't turn out so good and clean up was just horrendous. I have to say this time was a lot easier but that's probably due to the fact that I'm now used to painting my nails almost daily, hahaa.
First I tried to do a rainbow one, Yes.... I really love colour, but the water I used made it difficult to make patterns in the water before it started to stick to the toothpick. I decided that 14 colours was way too much for me to handle so I closed my eyes and reached into my bag to pull out 5 colouring pencils, luckily they didn't contrast too much with each other! Unfortunately, it was still way too hard to make any sort of pattern in the polish in the cup of water so it didn't turn out too interesting... but I still really like it :)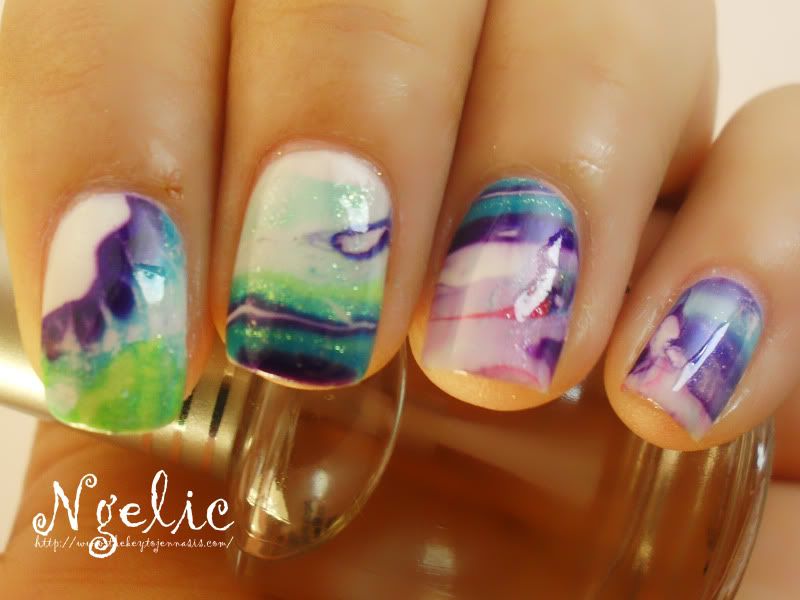 Here's what I used:
Jordana: White
China Glaze: Bermuda Breakaway
Jordana: Boy, Oh Boy
Zoya: Apple
Essence: Mellow Yellow
Jordana: Tender Coral
Water and a Cup
... And that brings an end to the pattern part of the challenge - time to move onto inspirations, although, I have been doing that all challenge, haha. Remember to check out
Emma
's and
Alyssa
's 31 Day Challenges too!