Green is my favourite colour... and so when this concept showed up for the
31 Day Nail Art Challenge
, I didn't know which of my greens to use since I had so many favourites. I ended up creating a splatter manicure using those greens and it well created a pretty cute NOTD with an interesting texture underneath all the coats of topcoats.
This was the first time that I've used this nail art technique and let me tell you... it's rather disgusting sucking the polish into the straw (
I thought it was done in the same method as splattering with paint when we were in kindergarten
) and I don't think that you're meant to do that anyways. In the end I found a straw that was small enough to fit in the polish hole but big enough to grab on some polish as it was placed in the bottle and blew that onto my nails. It look a couple of tries per finger because I kept missing, ahahaha, and created a big mess over my hands and the tissue it was on but it's fun.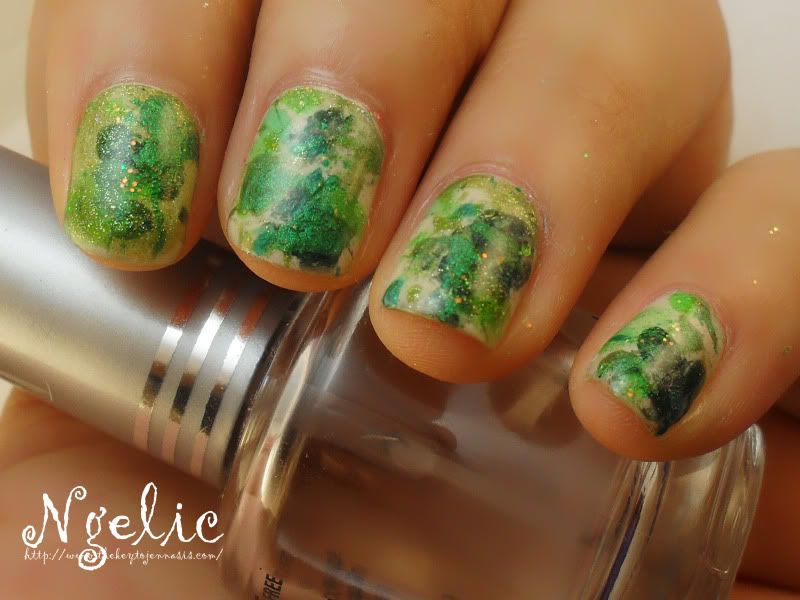 Here's what I used
:
Jordana: Bare Beige
Jordana: Mint Candy
Kleancolour: Chunky Holo Clover
Revlon: Emerald City
Sally Hansen: Resolution
Jebba's Franken: Sona's Heal
Straw