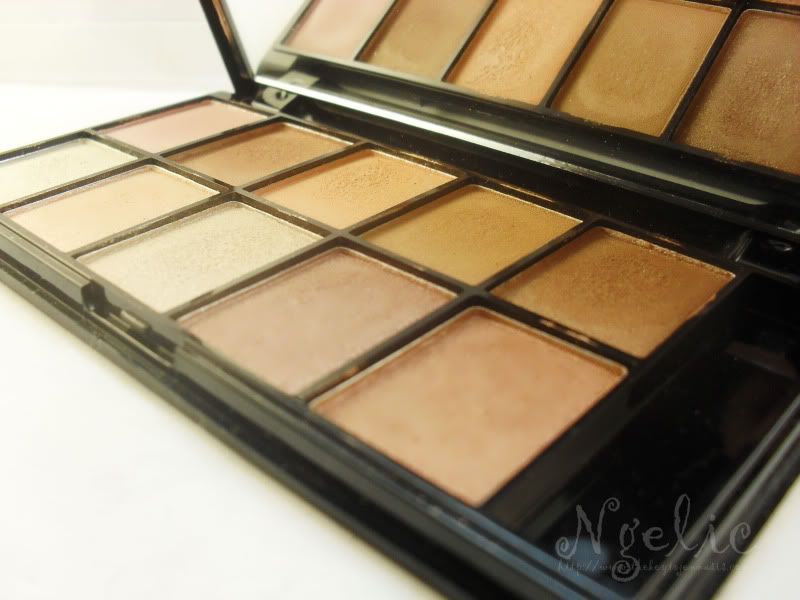 Brand: NYX Cosmetics
Collection
: The Runway Collection (10 Colour Eyeshadow Pallet)
Price: $11USD
Contains: 14g (0.49Oz)
Ingredients: Mica, Talc, Zinc Stearate, Mineral Oil, 2-Ethylhexyl Palmitate, Tridecyl, Trimellitate, BHT, Methylparaben, Propylparaben.
Place of purchase
:
Cherry Culture is the best place to purchase NYX Cosmetics because they're always in stock and on sale for $8.50USD. They can also be found on Nonpareil Boutique for $8.50USD as well as Crush Cometics for $14.95AUD.

Website
:
NYX Cosmetics
Location: Los Angeles, USA but made in People's Republic of China.
Animal Cruelty
-Free: Yes.
Hypoallergenic: Yes.
Vegan: No.
Mineral: No.
Jebba's Star Rating
:




Swatches: They correspond to the number that is allocated on the "pan" photos. Left swatch of each shadow is "normal"/dry while the right is on NYX: Eyeshadow Base. All photos are flash-free but taken under artificial lighting.
As I have mentioned before, I never really liked neutral palettes because I've always thought they were boring on the eyes and gave it no colour until Urban Decay's Nude Palette came out. I saw how much it enhances eyes without looking overly bold from all the looks everyone were creating with that single palette. For this reason, Catwalk was one of my last palettes to be purchased from this collection. By then, the price of the NYX palettes had increased from
$8USD to being retailed for
$11USD

As with many of other other NYX palettes, these are great for beginning who are just starting to get into cosmetics and want something inexpensive to play around with. However, Catwalk has shadows more around a similar spectrum which makes blending easier but doesn't really have an exciting colour to make a look stand out and pop, like around the crease lines. This is definitely a true nude palette. The eyeshadows in Catwalk have an okay pigmentation for the early stages of learning to apply makeup but it will definitely needs a primer to make the pigments show up more especially the lighter ones.

The shadows in
NYX
palettes usually has a problem of fallout but
Catwalk
has the least amount of fallout even with the softer metallic shadows. I don't have fallout all over the mirror of this palette! :)